Tree Removal, Tree Trimming Tree Service in Farragut TN
#1 Tree Service Company in Farragut. Offering Tree Removal, Tree Trimming, Tree Pruning and Plant Health Care Services in Tennessee.
Get Estimate
Call Now
Farragut Tree Service & Tree Removal Experts
Do you need a professional tree service in Farragut? Look no further than East TN Tree Service!
At our company, we provide the most professional tree service in the area, from tree trimming and pruning to complete tree extraction. We have years of experience and expertise in the industry, and we never compromise to go above and beyond to meet each of our customer's needs.
Our team of expert professionals is dedicated to providing the safest and most reliable service to our clients. We understand removing trees can be a daunting task, and it needs professional hands and advanced techniques to complete the task with minimum damage.
That's why we take all the extra precautions and advanced equipment help when removing your trees so that you can rest assured your trees will be extracted safely with minimal impact. Contact us today for a free quote on getting your trees taken care of!
Tree Removal
We are the only experienced crane-based tree removal company serving the Farragut area. Whether it's a tall or a giant tree, you want us to remove it from your property, and we have the right equipment and expertise to get the job done right, safely and efficiently.
Tree Pruning
Tree pruning can help keep your trees strong and healthy, and it helps improve the aesthetics of your landscape. Our professional arborists will inspect your trees and apply the appropriate actions to prune them in order to maintain their health and appearance.
Tree Trimming
We specialize in every type of tree trimming, from trimming the fungi-affected area to cutting dead or broken branches. ETTS also cleanses up all the debris that has accumulated from the trimming process.
Lot Clearing & View Enhancing
Lot clearing is one of the many services we provide to our clients. Our lot clearing process includes clearing branches, debris, and other clutters that block the visibility or interfere with the view of your properties.
Emergency Storm Damage
Were your home or other property damaged by the storm? ETTS' 24/7 emergency storm damage solutions are here to help. Our team will clean up all the debris, pull out the fallen trees, and will help you restore your property's beauty again.
Plant Health Care
East TN Tree Service provides a variety of plant health care services to help your trees stay healthy and resistant to diseases. Our experienced staff only uses advanced methods to diagnose the problems, and treat them correctly, which prevents them from having any future issues.
Reliable and Professional Tree Service at an Affordable Rate
Locally Owned and Operated
You need a professional tree service that can take care of your tree problems. But you don't know where to turn. It can be hard to find the right tree service that is both professional, reliable, and doesn't charge an arm and a leg for their service.
East TN Tree Service is the perfect choice for you! We happen to be the most reliable tree service provider that is locally owned and operated and specializes in Farragut and surrounding areas. Customers love us for our quick response time, affordable prices, and the quality of work that we deliver to each client. Our services include tree removal, tree trimming, tree pruning, lot clearing, etc.
Contact us today for your next tree service in Farragut city. You won't regret it!
Experienced Staff
Our team has years of experience & expertise on this line and will do the job with utmost professionalism.
100% Licensed & Insured
We are a 100% licensed, bonded, and insured tree service company serving your city Farragut, TN.
Locally Owned & Operated
Being a locally owned & operated business, ETTS has a great reputation in the industry for great work & ethics.
Only Crane-Based Company
We are the only tree removal company serving the Farragut area with cranes and expert operators to handle tall or hard-to-reach trees.
Skilled, Licensed, and Insured Tree Service Company in Farragut, TN
At East Tennessee Tree Service, all of our members are fully licensed and insured, so you can rest assured knowing that your tree removal projects will be in good hands when you hire us for the service. We have served the whole of Farragut and its surrounding areas for years now, and are known as one of the most affordable and reliable tree service experts in Tennessee!
We only use the latest and advanced equipment to get the job done right, with complete safety and efficiency in mind. Plus, we provide spikeless climbing so that your plants don't get damaged in the tree care process.
Looking for a Tree Removal Service?
How to Book Our Service
Booking a professional service for your trees don't have to be so complicated! Specially, when you work with us the process is fairly simple and straghtforward. Check below:
Call Us for a Quote
Call us directly or get a free estimate online.
Select a Date & Time
Selecta specific date or time that is convenient for you.
We Get it Done
We arrive at your property and get the work done!
Get a Free Estimate Today!
If you're looking for a local, reliable, and professional tree service provider in your city, Farragut, ETTS is the best choice around. Call us today or contact us online for a free estimate. We look forward to hearing from you soon!
Get Professional and Expert Tree Care Service Near You!
Tree care is an essential part of maintaining beautiful and healthy trees. But sometimes, it may get overwhelming for you to give your trees the proper care they need. That's where East TN Tree Service comes in!
Whether you need your plants to get trimmed or pruned or you want to extract them completely, we can do the job with minimal fuss and disruption. All of our arborists are licensed and insured and keep years of experience and expertise in handling any size of tree, big or small.
We use only the advanced equipment and techniques to do the job and will leave your property or garden looking pristine afterward. Contact us today to schedule a consultation with us. We look forward to hearing from you soon!
100% Safety and Satisfaction Guaranteed!
Why Does Safety Matter for Tree Service?
In every tree service, safety should be the top priority. Because trees are heavy objects, and if they're not properly secured, they can fall on your property and can cause a dangerous loss. In fact, serious damages and injuries, including life losses, have happened because of the unprofessional tree service work in the past.
That's why it's very important to inquire about any tree service before you hire them for your tree removal projects. You should inquire about their safety procedures, see if they're fully licensed and insured, have a good reputation in the city, and more.
This is how someone can minimize the potential losses and damages during their tree service.
We Respond to Emergencies!
We provide 24/7 coverage for emergency storm damage services in Farragut, Tennessee. All of our experienced members are fully equipped with the latest techniques and technology to handle any emergency tree removal and restoration in any emergency circumstances.
Count on us for any of your emergency storm damage tree extractions at your city, Farragut. We'll be more than happy to help!
AWESOME COMPANY!!! They were prompt, gave a very reasonable price, and did exactly what they promised… Tony, the supervisor, checked with us multiple times to assure we approved of each tree he cut and the other guys work non-stop while here… WOW… I even asked for one of their signs to be placed in my yard… Thank You East Tennessee Tree Service!!!
I hired East Tennessee Trees to remove a dead tree and remove limbs on other trees to improve my sight line to the lake. They were on time, polite, and courteous. I would highly recommend them to family and neighbors.
Need Finance? ETTN Can Help!
If you're looking for the best financing options, we have the right solution for you! To go with your financing journey, first, you'll need to submit a 60-second application online. Then you can review the existing offers and select the perfect one that fits your needs.
Finally, finalize your application with a lender, and get funding in 1-5 business days!
Get a Free Estimate Today!
Our Story
We are a locally owned and operated company that has been serving Powell, Knoxville, Maryville, Oak Ridge, Lenoir City, and its surrounding areas for years now. Initially, we started with small group members and very limited equipment. Now, we happen to be one of the most trusted and reliable tree service companies in all of Knoxville.
ETTS is licensed, insured, and skilled in every difficult tree extraction project. We are a member of the Tree Care Association of America, the International Society of Arboriculture, and the Better Business Bureau-Knoxville chapter.
On top of that, We have excellent team members, years of experience, and the most advanced equipment and tall cranes to handle all your tree service projects.
Contact Us
Address: 1258 Topside Rd, Louisville, TN 37777, United States
Email: office@easttntreeservice.com
Phone: (865) 806-7320
Hours of Operation
Monday: Open 24 hours
Tuesday: Open 24 hours
Wednesday: Open 24 hours
Thursday: Open 24 hours
Friday: Open 24 hours
Saturday: Open 24 hours
Sunday: Open 24 hours
When is the Time to Remove Trees?
Trees need to be removed when they are no longer needed for environmental and structural reasons. Trees can damage property during a fire or in a storm. Also, rotten trees and fungi affect trees and are more likely to spread the disease to nearby plants.
How Do You Know if Your Trees Are Dying?
When you notice rot or fungus, no new leaves growing on the body, and root damage, that's when you'll know the trees are dying.
What is the Average Cost of Tree Removal in Tennessee?
The average cost of tree removal in Tennessee varies depending on the size, type, and location of the tree. However, most tree removal companies offer a free consultation so that you can get an idea of what your specific project might cost.
Do I Need Permission to Cut Down a Tree on My Property?
If you own your home, you don't need permission to cut or remove trees that are solely within your garden unless there is no precise regulation about it in your city or state.
What's the Difference Between a Tree Surgeon and an Arborist?
A tree surgeon is someone who is tasked with tree maintenance. On the other hand, the arborist is tasked to do the complete tree management.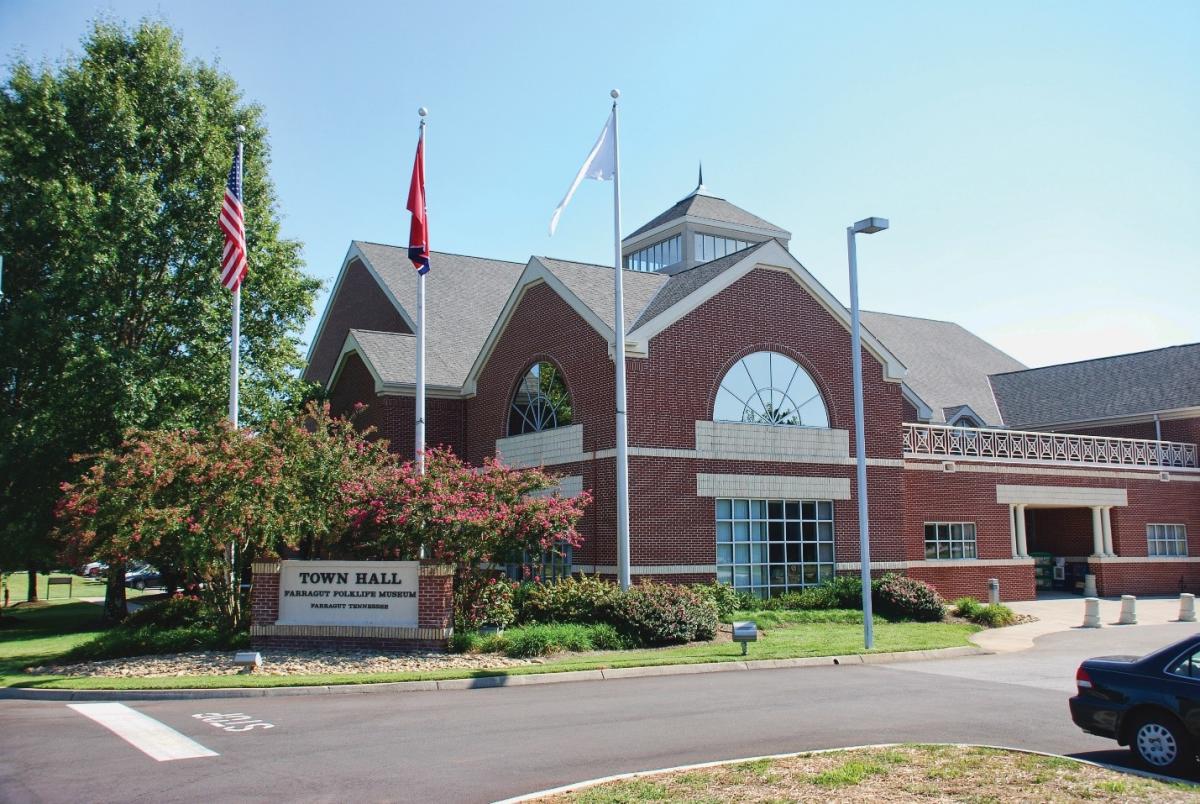 About Farragut, TN
Farragut is a suburban town located in Knox and Loudoun counties, Tennessee. This city was initially known as Campbell's Station, which was named after the fort and stagecoach station. Then it was re-named as Farragut, after the name of American Civil War fighter David Farragut.
Farragut is a small and vibrant city with lots of attractions. The town has numerous parks, including Concorde Park and Anchor Park. You can also visit the Mayor Bob Leonard Park, Zuma Fun Center, and the PetSafe Village when you visit this city.
Things to Do in Farragut, TN
Founder's Park at Campbell Station